May 11, 2020
USDCAD open (6:00 am EST) 1.3976-80 Overnight Range 1.3902-1.3980
Traders cautious as economies start to re-open
Canadian and US economic calendars are empty
NZ dollar worst performing G-10 currency as greenback rises against the rest
Percent change in Currency value against US dollar, Monday NY open to Friday NY open (6:00 am EDT)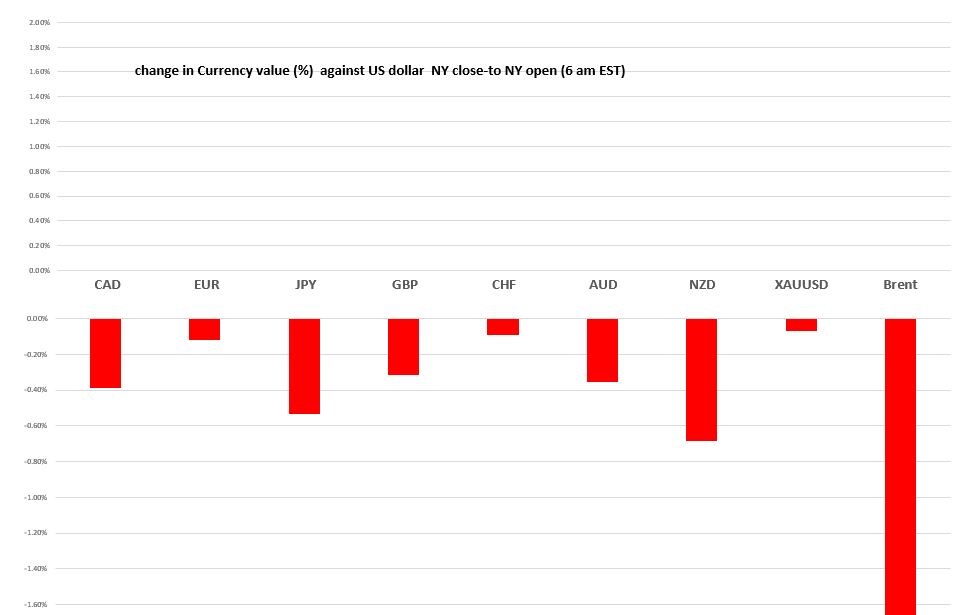 Source: Saxo Bank/IFXA
FX Recap and outlook: FX markets ran hot and cold overnight. Asia traders were in risk seeking mode and bought stocks, and commodity bloc currencies. European traders saw it differently drifted into risk-aversion trades. It was a slow start to the week and traders are second-guessing themselves, perhaps wondering why record job losses in Canada and the US warrants a nearly 2% rally in the Dow Jones Industrial Average.
Markets are getting nervous about the risks of a COVID-19 round 2 outbreak as governments begin to ease lockdown restrictions. The PBoC hinted that further stimulus measures are likely, by deleting the word "prudent" from its first quarter monetary policy report. Analysts except deeper RRR cuts.
Traders are not motivated to get involved and a lack of actionable data, or new central bank actions has underpinned the greenback. EURUSD drifted lower in a 1.0810-50 range, rising in Asia, dropping in Europe, and inching higher in early NY trading.
GBPUSD mirrored Euro moves. Those traders are awaiting Prime Minister Boris Johnson's statement today, on the plan to reopen the UK economy.
USDJPY was in demand to start the week and it stayed bid into the NY session, rising from 106.39 to 107.27. Prices continue to be supported by the sharp rise in US Treasury yields with the 10-year yield rising to 0.61% from 0.61% on Friday.
For today, USDCAD support is at 1.3940 and 1.3910.
AUDUSD and NZDUSD erased Asia session gains in Europe and opened in NY with losses against the US dollar compared to Friday's close. Traders are leery as New Zealand is preparing to ease lockdowns further, and the RBNZ policy meeting is due on Wednesday.
WTI oil prices continue to consolidate in a $23.00-$25.00 range. Traders are concerned that the return to a more balanced oil environment will take longer than previously thought, in part to reduced air travel.
USDCAD dropped after Stats Canada reported that 2 million jobs disappeared in April, which is hardly a normal reaction to a record-breaking negative report. Traders appear to be coming to their senses as USDCAD climbed steadily from the European low of 1.3907 to 1.3987 in early NY trading. USDCAD direction is at the mercy of broad US dollar sentiment, with domestic factors have little influence.
The empty economic calendars in Canada and the US suggest traders will be guided by US stock market price action, and S&P futures are modestly lower.
USDCAD technical outlook
The short-term USDCAD flipped to bullish today when prices snapped a modest downtrend line from May 7. Today's move above minor resistance at 1.3960 targets 1.4005, which if broken will extend gains to 1.4070. Longer term, the downtrend from the March 27 peak is intact while prices are below 1.4130 with a break of support at 1.3920, extending losses to 1.3850. For today, USDCAD support is at 1.3940 and 1.3910. Resistance is at 1.4010 and 1.4060. Today's Range 1.3940-1.4005
Chart: USDCAD 30 minute
Source: Saxo Bank